Skip to end of metadata
Go to start of metadata
Welcome to the FANFAR Knowledge Base. FANFAR is an EU-financed project focussing on co-developing an operational flood forecasting and alert pilot system for West Africa. Through this Knowledge Base you can learn about the FANFAR system and get guidance on how to use it. For a brief overview of FANFAR check this presentation and for further information please visit www.fanfar.eu. 
You can access the Knowledge Base either by searching above, or by browsing on the left. 
Here are a few tips on particularly useful pages in English:
Voici quelques pages particulièrement utiles en français: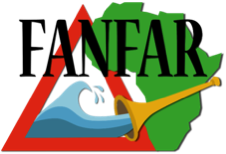 This project has received funding from the European Union's Horizon 2020 research and innovation programme under grant agreement No. 780118.